Hey guys! More to add with the fall theme! I'd like to hear your comments? What'd'ya think? You're all being kinda quite lately! Anyway, have fun!
*Thanks to http://www.allkidsnetwork.com for the craft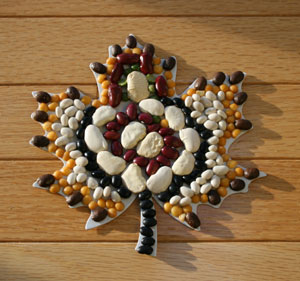 Poster board or lightweight cardboard (like a cereal box)

White glue (a glue stick won't work well here)

Scissors

Leaf template 1 Leaf template 2

Dry beans (we used a 15 bean soup mix)
How to make your Bean Leaf Craft:
Print our leaf template and cut it out. Trace it onto poster board and cut the leaf out.

Apply a generous amount of glue to the leaf cut out and spread it evenly over the surface.

Add beads to the glue.
This is a really good idea to do if you have younger siblings or if you babysit, I think the kids would like it a lot.